Stag beetle related products on eBay and Yahoo auctions ?>
Stag beetle related products on eBay and Yahoo auctions
eBay is an internet auction site with the world's largest users. On the other hand, Yahoo Auctions is a famous auction site in Japan. In both cases, ordinary people like us sell products.
In these two auction sites, I searched for "stag beetle" as a keyword and looked at the differences between the products being exhibited.
Number of hits
eBay (Searched for "stag beetle"): 2,687 in total, 211 for >5000 JPY (Japanese yen)
Yahoo Auctions (Searched for "クワガタ"): 7,329 in total, 1143 for >5,000 JPY
From here, I will focus on the products that are more than 5,000 JPY.
Top5 categories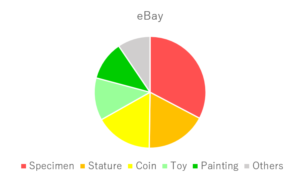 Porcelain/metal statures    37/211(18%)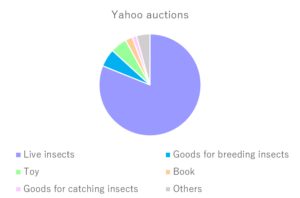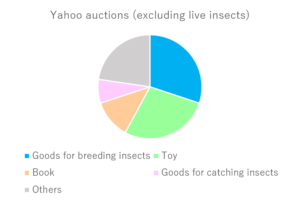 Live insects    927/1143(81%)
Goods for breeding insects 65/1143(5.7%)
Goods for catching insects 16/1143(1.4%)
We will look at the top 3 categories for each.
eBay 1st-ranked category: Specimens
It is as expected that many specimens are exhibited. All the specimens I checked were dry specimens. It seems that many resin-filled specimens are exhibited for less than 5,000 JPY.
eBay 2nd-ranked category: Porcelain/metal statures
Statures of stag beetle that are made of porcelain or metal are exhibited.
eBay 3rd-ranked category: Coins
Coins using stag beetles for design issued in each country are exhibited. There is also a limited number of commemorative coins.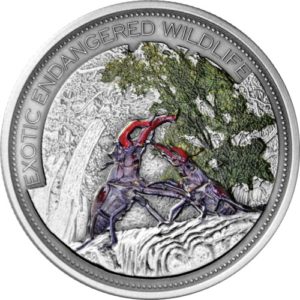 Limited number of coins issued in Fiji.
Yahoo Auctions 1st-ranked category: Live insects
Overwhelming number of products are exhibited. There are both individual trader sellers. Many domestic stag beetles exhibited are Dorcus hopei binodulosus. Although there are a variety of products from overseas, the impression is that there are many Dorcus genus  and Phalacrognathus muelleri. If I search in summer, the number of products is likely to increase further.
On the other hand, there are no live insects on eBay. The reason why no live insects were listed was due to eBay's policy. eBay appears to restrict creature listings for animal welfare and environmental protection. It may be appropriate to consider the long-term transportation of goods across borders and the different regulations on importing creatures in different countries.
Yahoo Auctions 2nd-ranked category: Goods for breeding insects
Jellies, mycelium bottles, mats, natural wood, plastic cases, artificial pupa rooms, heat insulation boxes, and thermostats were exhibited. The artificial pupa chamber is a sponge pupa chamber used as first aid when the pupa chamber is broken or for pupa observation.
Yahoo Auctions 3rd-ranked category: Toys
Cards (mushi-king), figures, badges, plastic models, game software, woodworking kits, medals were exhibited. Mushi-king cards accounted for about half. eBay's fourth-ranked category of toys was also mostly Japanese-made cards and figures.
Extra: Painting
eBay exhibited 24 paintings depicting stag beetles. Many pictures appear in the previously introduced book Lucanus cervus depictus.
"Still life with Stag beetle" by Georg Flegel
At Yahoo Auction, there were only three works, all of which were drawn by actor / painter Tsurutaro Kataoka.
Price distribution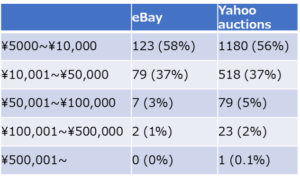 The highest price on eBay is 190,000 JPY for Polish silver coins that use stag beetles in their designs. The second highest is 160,000 JPY for the 19th century painting "Jack Russel Puppy w / a Stag Beetle".
The highest price on Yahoo Auctions is 3 million JPY, a natural Dorcus hopei binodulosus specimen set. Live insects accounted for the majority of 23 cases over 100,000 JPY.