Insect Fair (Tokyo) ?>
Insect Fair (Tokyo)
I joined Insect Fair, which is an annual event selling insect specimens at Otemachi, Tokyo. Total 1,200 m2 area was occupied for this event, but this was not enough to accommodate many visitors. I felt difficulty to walk around the aisles because of the crowdedness. The visitors have diversities, including man and women, children, adults and seniors.
Since the photo-taking is prohibited in the event area, I will describe the event based on my experience and memory. In the middle part, I will upload the pictures of specimens I bought (Photos were taken at my home). Additionally, I will introduce you the link of website that will share the information about this annual event.
Products at the event
Butterflies were the most abundant in the event. Then beetles including rhinoceros beetles, stag beetles and scarabaeid beetles followed. There were also longicorn beetles, wasps, mantises, and dragonflies. Most of specimens I saw cost several thousand yen. In extreme cases, 5 specimens cost 100 yen (20 yen per one specimen), and 1 specimen cost 240 thousand yen! The event was enjoyable even if I just see. I am not familiar with butterflies, but I always fascinated by Morpho.
The products were mainly specimens, but some were living ones. I felt these products were more than last year. The most abundant were stag beetles and rhinoceros beetles. Minor ones included giant water bugs, ranatras, butterfly larva, cockroaches, queen ants. Other than insects, there were plants as food for butterfly larvae. I remember there were ant‐lions last year, but I could not find them this year.
Products I bought
Since I needed uniform-sized beetles with cheaper prices, I mainly looked for products that put many specimens inside one pack.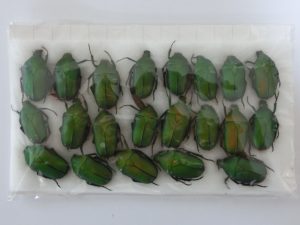 Rhomborrhina sp. (Viet-Nam)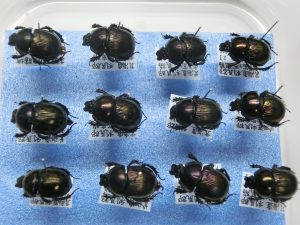 Geotrupes laevistriatus (Hokkaido, Japan)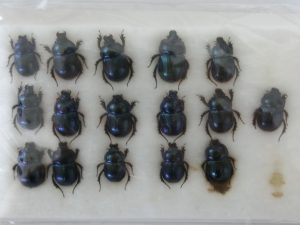 Pherotrupes (Chromogeotrupes) auratus yaku (Kagoshima, Japan)
Information about Insect fair
Although the event does not look having its own web page, this link (http://kawamo.co.jp/roppon-ashi/exhibision-in.html) will announce the information about the event around 1 month earlier.