The stag beetle in European folklore ?>
The stag beetle in European folklore
Please watch the video provided by BBC. The image of the stag beetle in the European folklore seems somewhat different from ours (at least Japanese's).
"A stag beetle's history of Britain" (BBC) … If you find problem playing the video below, you may try to visit the original website here.

*I uploaded the content under "Terms of Use" provided by BBC.
"Back in the middle ages, the stag beetle was seen as a thing of the devil, emanating from the depth of hell, accompanied by fire."
"Legend says they could summon the lightning."
"They could carry a burning coal in their antlers to do the devil's work"
 Are there any other stories in European or other regions?
I investigated the legend about the stag beetle (Lucanus cervus) and listed them below.
*Dear visitors from abroad, please contact me if you know other stories*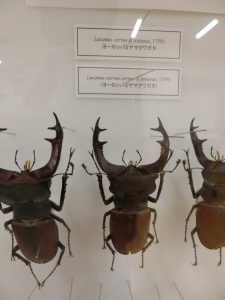 Besides, I was impressed how "Lucanus cervus depictus" covered wide range of stories.
The stag beetle attracts lightening
"Names such as Donnergueg (thunder abetting) or Donnerschröter (thunder spreader) indicate that stag-beetles attract lightening and, were therefore baned from entering the home." ("Lucanus cervus depictus")
– Germany, from "Lucanus cervus depictus"
"Scientists assumed a parallel between the stag beetle and the Germanic god Donar or Thor, the god of thunder and protector of the harvest"("Lucanus cervus depictus")
– Germany, from "Lucanus cervus depictus" and the website of the Richmond Park
The stag beetle provides protection from lightning
"They believed that a stag beetle head worn on a hat provided protection from lightning and the evil eye." ("Lucanus cervus depictus")
– France (Vosges Region), from "Lucanus cervus depictus"
– Germany, from "Lucanus cervus depictus" and the website of the Richmond Park
The stag beetle bears burned coal and cause a fire
"The terms Feuerschröter (fire spreader) or Hausbrenner (House burner) testify for the widespread belief that stag beetles, by carrying coals from the hearth up to the attic withtheir strong mandibles, were responsible for the frequent domestic fires during this time period." ("Lucanus cervus depictus")
– U.K., from the website of the Richmond Park and BBC
– Germany, from "Lucanus cervus depictus"
– Western Europe, from "Beetles"
The evil eye could be warded off by wearing the horns of the stag beetle
"The evil eye could be warded off in Rumania by wearing the horns of the stag beetle and woman wore them in their braids for protection."("Lucanus cervus depictus")
– Romania, from "Lucanus cervus depictus"
– Turkey, from "Beetles"
A stag beetle in the pocket bring wealth
"A stag beetle in the pocket in northern France, brought wealth or luck in the lottery to the bearer." ("Lucanus cervus depictus")
– Northern part of France, from "Lucanus cervus depictus"